In an increasingly connected world, the role of telecommunication service providers has never been more critical. However, the landscape of this industry has shifted dramatically in recent years. The entry of over-the-top (OTT) providers, rising customer expectations, and the daunting complexity of managing an expanding portfolio of services have put communication service providers (CSPs) under pressure. This is where Netaxis Solutions comes into play, delivering a comprehensive suite of platforms and solutions designed to support the transforming communication services provider landscape.
A mission driven by excellence
Netaxis, established 13 years ago, serves more than 70 leading communication service providers worldwide. Guided by a mission to support telcos and service providers in harnessing the cloud opportunity, Netaxis simplifies, automates, and accelerates their journey towards operational excellence and supports CSP's in the search for new revenue opportunities.
Building a robust portfolio
Understanding the challenges faced by CSPs, Netaxis has developed an impressive portfolio of services and platforms that act as the perfect antidote. At the heart of this portfolio are two foundational platforms – the Netaxis API Orchestrator (APIO) and the Session Routing Engine (SRE).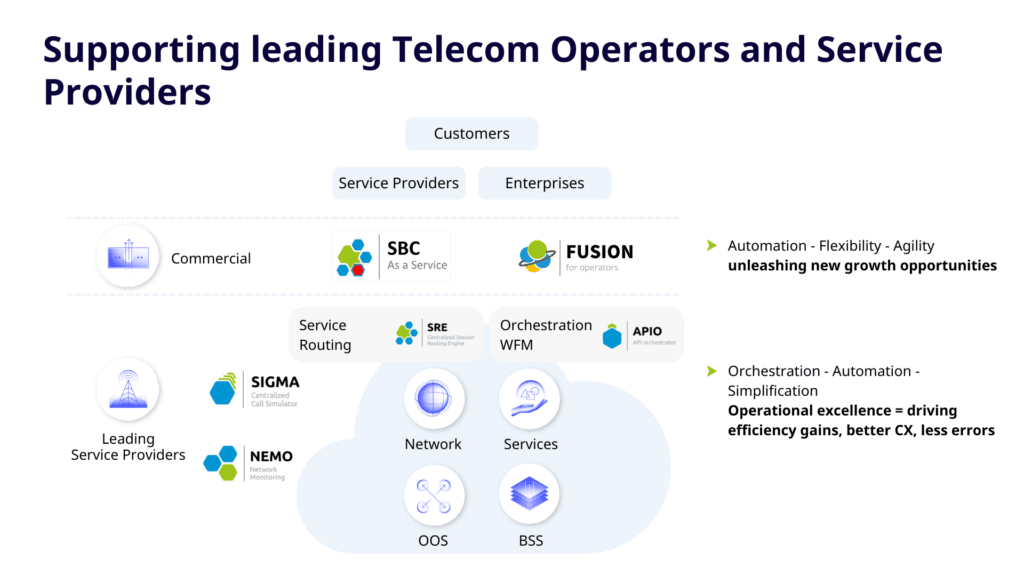 APIO, or API Orchestrator, is an innovative platform that bridges network elements with network services and applications to the existing OSS/BSS systems. This platform's significance can be seen in its ability to enable advanced automation, which leads to efficiency gains, improved customer experiences, and reduced errors.
It allows CSPs to speed up service deployment with a "drag and drop" service logic builder. With APIO, CSPs can automate complex processes such as number portability, service provisioning, use case implementations, and customer enablement.
The Netaxis Session Routing Engine (SRE) is another cornerstone of the Netaxis portfolio. SRE handles both voice and non-voice (IOT) routing in the CSP's networks, facilitating intelligent routing and simplifying interconnectivity between network elements, platforms, and applications of partners.
SRE supports a wide range of communication protocols, including SIP, HTTP(S), MQTT, CoAP, and AMQP. This ensures reliable communication across distributed systems, making it ideal also for IoT implementations. By centralising control, SRE delivers increased efficiency and flexibility, enabling CSPs to take full control of their networks.
Building on the foundation of APIO and SRE, Netaxis offers two unique solutions to the market – SBC as a Service (SBCaaS) and FUSION allowing CSP's to unleash new revenue opportunities.
SBCaaS: Rethinking session border controllers
SBC as a Service (SBCaaS) is a scalable solution that offers a range of benefits to CSPs. By automating the deployment of the Oracle SBC on OCI with High Availability, Netaxis SBCaaS reduces upfront capital expenditures and allows for more predictable operating expenses. It also offers flexibility and scalability, allowing quick adaptation to changing market demands and customer needs.
It helps CSPs focus on their core operations by providing a scalable solution with less human intervention on core elements. It combines basic and advanced routing capabilities in one service, offering a cost-effective way for CSPs to optimise their resources.
Enhanced security is another benefit, with SBCaaS providing advanced protection from malicious attacks and unauthorised access. It serves as a secure gateway for SIP-based multimedia sessions, offering comprehensive threat prevention mechanisms and real-time monitoring capabilities.
FUSION is a universal docking solution designed to help CSPs offer new Unified Communication (UC) solutions. With FUSION, CSPs can provide popular UC solutions such as Cisco Webex, Zoom, and Microsoft Teams with voice breakouts, as well as advanced UC applications such as contact centre solutions and advanced reporting.
FUSION enhances self-service and lifecycle management, driving efficiency and speed. It also improves customer satisfaction by enabling a differentiated go-to-market strategy, avoiding obsolete investments, and accelerating time to market.
Harnessing the cloud opportunity
Netaxis Solutions is more than just a software company. It's a true partner that supports CSPs in their journey to harness the cloud opportunity and remain relevant in an industry experiencing rapid digital transformation today and tomorrow.
Stepping into the future together
In a rapidly evolving telecom landscape, the importance of a robust, flexible, and scalable service portfolio cannot be overstated. Starting with foundational service routing and orchestration, Netaxis offers a comprehensive suite of solutions designed to empower CSPs to navigate the complexities of the modern telecom environment.
As the telecom business transforms into a software business, companies like Netaxis are at the forefront, providing the tools and platforms that CSPs need to stay relevant, competitive, and efficient. With its innovative approach and commitment to excellence, Netaxis is not just shaping the present of the telecom industry, it's unlocking its future.